Overview
Across the U.S., cities and towns are being forced to throw more money at solving blockages as consumers buy (and flush) more wipes than ever.
By Gerald Porter Jr. March 26, 2021, 7:00 AM EDT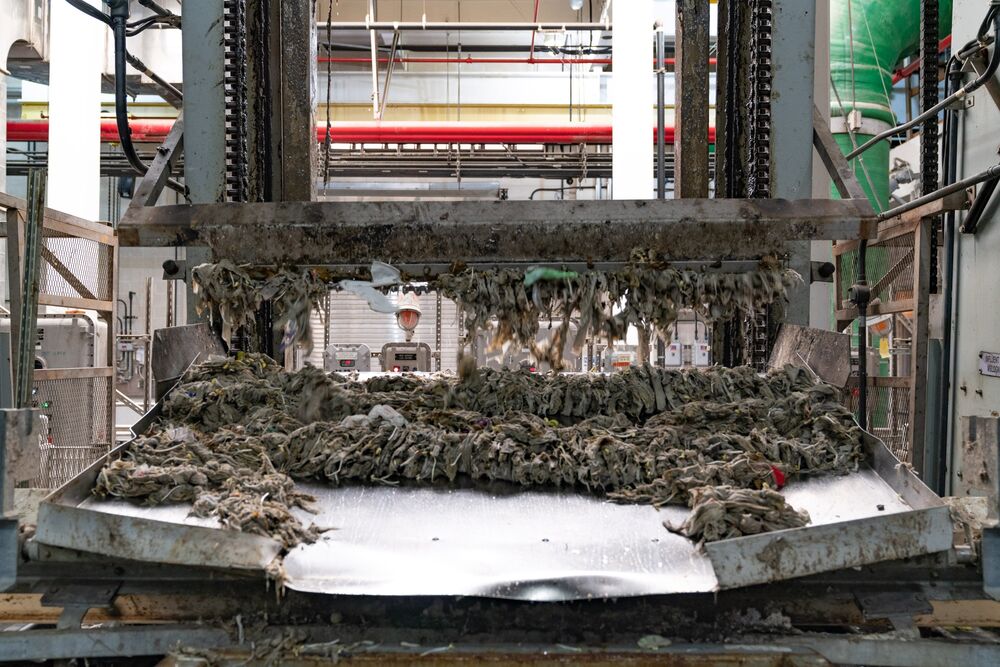 Even before the pandemic, Americans were already flushing far too many wipes into the sewer system. After a year of staying at home, the pipe-clogging problem has gotten worse.
Just ask Larry Hare, who says he immediately observed the change from his vantage point as the manager at a wastewater reclamation facility in Des Moines, Iowa.
Sewer backups are up 50%, and he attributes this to the flushing of wipes, which don't break down in water like toilet paper. "We've always had the problem, but it just hasn't been as big a problem as it is currently," Hare said.
With consumers cleaning everything from counters to doorknobs in hopes of thwarting the coronavirus, sanitary wipes are more popular than ever. In the 12 months through late January, their sales surged 75%, according to data from Nielsen. But the blockages they create when flushed — dubbed fatbergs— have become a costly headache. The Des Moines Metropolitan Wastewater Reclamation Authority has spent more than $100,000 over the past year and deployed specialized block-clearing trucks about 30 times, according to Hare. Similar problems are plaguing cities and towns across the U.S., and they're being forced to spend more and more on fixing the problem.
U.S. municipalities shell out at least $1 billion annually on maintenance to remove clogs caused by wipes, according to the National Association of Clean Water Agencies, a group that advocates for better water policies. In Charleston, South Carolina, the problem has gotten so bad during the pandemic that the city's water management agency filed a lawsuit against major manufacturers and retailers, accusing them of falsely labeling some wipes as flushable. Last year, Washington became the first state to pass legislation requiring manufacturers to label their products with "do not flush" disclaimers, and states including California have also introduced bills that would mandate similar labels.
The term fatberg originated in the U.K. and describes the tangled black masses of wipes and congealed cooking fat that accumulate in sewage systems. One 40-metric ton specimen under London was estimated to be the size of a double-decker bus. Because the clogs happen further down the line, most consumers are unaware of them. This lack of visibility, combined with higher wipes sales during the pandemic, has exacerbated the problem, said Gary Hawkins, a professor in water resource management at the University of Georgia.
"It's one of those out of sight, out of mind type things," said Hawkins.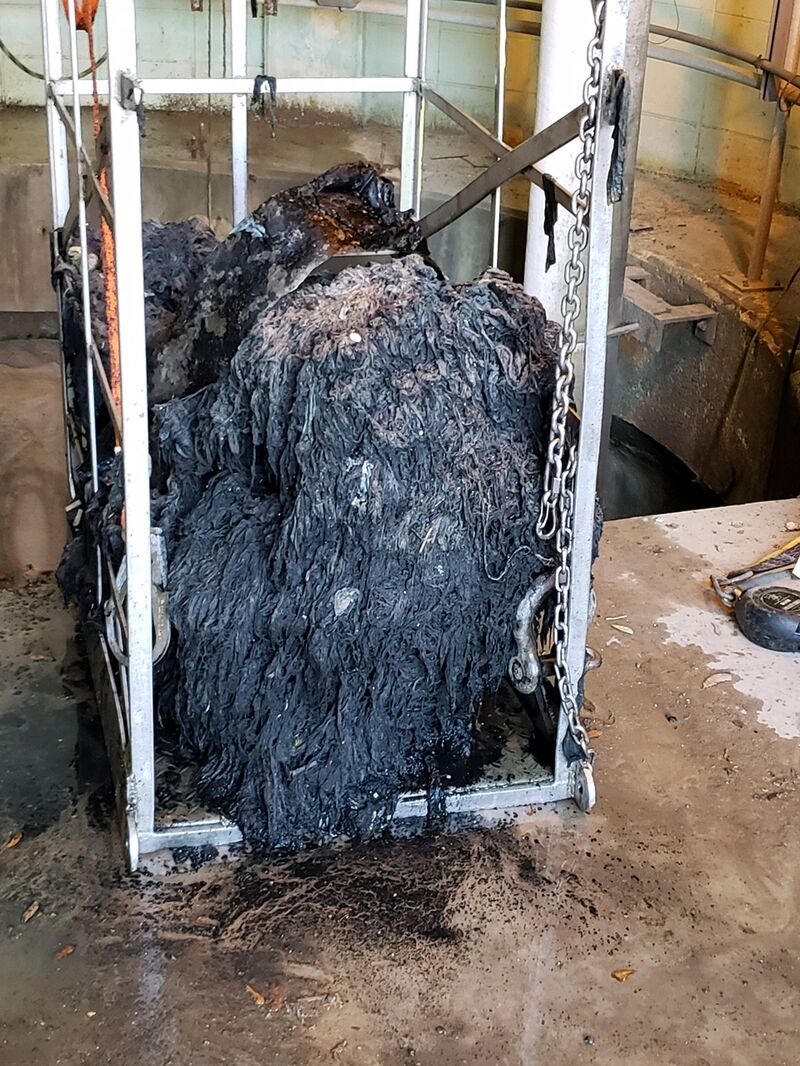 The Charleston Water System has faced some of its worst bouts with fatbergs in the last year. Pre-pandemic, crews only saw about two clogs per month in its pump stations. That jumped to an average of 16 clogs per month from April to June 2020, and the contractors and specialized trucks used to clear them out added an extra $110,000 to the agency's costs, said Baker Mordecai, Charleston's director of wastewater collection. The problem has persisted.
"We would have thought we'd see a huge drop because people are starting to go back to work," he said. "But we haven't really noticed any major decrease in the amount of wipes that we're taking out of the system."
Deeper in the city's sewers, Charleston officials have increased preventive maintenance as clogs become more frequent. Workers had to triple their weekly cleanings and roll out four times as many wheelbarrows full of debris from one of the area's largest shafts. In response, the city increased its anti-fatberg budget to $360,000 — a 44% increase from the previous year. Despite the financial boost, mounting expenses means the ultimate consequence for residents, Mordecai said — paying the maintenance costs via a billing increase.
Cynthia Finley, the director of regulatory affairs for NACWA, the water advocacy group, said flushed wipes are "really a menace to the entire system." While consumers are putting them down the drain, manufacturers haven't always made it clear that the products can't and shouldn't be flushed. Charleston argues in its federal lawsuit that "flushable wipes do not break apart or disperse in a reasonable period of time, resulting in massive continuous damage."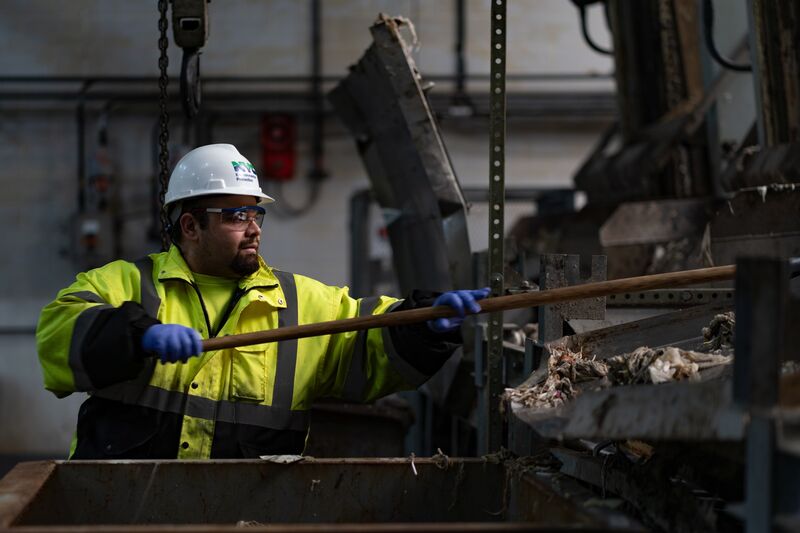 Last year, leading manufacturers of wipes formed the Responsible Flushing Alliance to educate consumers about "responsible and smart flushing habits." The group, which includes Procter & Gamble Co., Georgia Pacific and Kimberly-Clark Corp, is working to raise awareness around the impact of flushed wipes. As part of the initiative, the alliance is advocating for "do not flush" labels on non-flushable products.
Cities and towns across the nation, meanwhile, are carrying out their own educational outreach. The aim is to prevent the fatberg problem from ballooning, especially while local finances are increasingly strained by the pandemic. New York City is calling on residents to "trash it. Don't flush it." King County, Washington, which is home to Seattle, has a similar message. Terry Lauritsen, engineering and water utilities director for the city of Bartlesville, Oklahoma, said wipes cause more than 90% of clogs and his department started an "aggressive public awareness campaign" to fight it.
"The pandemic has made an existing problem worse," said Lauritsen. "It is not a new problem and it likely won't end completely once people resume normal activities."
Read the original article here: https://www.bloomberg.com/news/articles/2021-03-26/pandemic-wipes-create-sewer-clogging-fatbergs